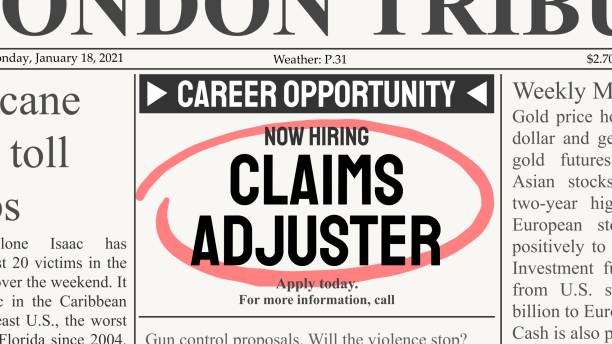 On

14/07/2022

By John Patton
Category: All Lines Adjuster
5 Steps to Become an Insurance Adjuster
Step 1: Verify that claims adjusting is right for you
One of the last 'hidden gem' careers in America, insurance adjusting is a stable industry, easily entered by new adjusters, with excellent earning potential:
Insurance adjusters are in high demand in any economy since claims remain steady regardless of economic factors.

Skills and qualifications necessary for success as an insurance adjuster are easily learned and acquired.

Annual earnings in excess of $100,000 are possible for independent catastrophe claims adjusters who work a large weather event or similar catastrophe.

Staff adjusters, hired directly by insurance adjusting firms, earn salaries ranging from $25,000 to $80,000 or more depending on their experience and ability.
Step 2: Choose the type of adjuster you will be
Most insurance adjusters choose between two career paths, electing to become either a staff adjuster or an independent adjuster.
Staff adjusters work as year-round employees, typically full-time, for insurance adjusting companies.

Independent adjusters are contractors who handle claims for one or more adjusting firms and often travel to heavily-hit areas as needed.

Both types of adjusters — staff employees and independent contractors — may handle both regular 'daily claims' that happen on a normal basis, as well as catastrophe claims from weather events and manmade disasters.
Step 3: Get your adjuster license
Get your home state insurance adjuster license if you live in a licensing state.

If your state does not issue licenses, choose Texas or Indiana and get their designated home state license.

For either of these options, choose an online or classroom course for your licensing. After learning the material in the course, you'll be able to easily pass the final exam and receive a certificate.

Submit your course certificate and required forms to the state department of insurance, or take the state exam (depending on your state's requirements).

Once your state issues your adjuster license, apply for reciprocal licenses in the states you are most likely to want to work in; the gulf coast and eastern states are favorites due to the high volume of claims.
Step 4: Learn the most essential skills for adjusters
An insurance adjuster license is only the starting point in a new career. Software training, practical adjusting course and hands-on training are next.
Proficiency in the industry-standard claims writing software, Xactimate, is critical for success in this career field. It is the top software used by adjusting firms.

Every person who takes a licensing class or exam prep course for property insurance adjusting should take a course to learn how to use Xactimate.

An adjuster license qualifies you to handle claims; learning the software will give you the practical skills needed to do the job.
Step 5: Land your first insurance adjusting job
Whether you are looking for employment in a staff adjusting position or prefer to remain independent and handle claims on a contractual basis, treat your job search as a job.
Contact the HR (human resource) departments at major adjusting firms to inquire about openings and their hiring process.

Send in your resume to at least 10 of the top insurance adjusting firms.

Network with everyone you know in the insurance and insurance adjusting industries.

Follow up on your resumes, job applications and personal contacts.

Keep your licenses current and be prepared to deploy during a catastrophe if necessary.